empire
released their 100 sexiest movie stars list...see the notables below:
50. channing tatum
49. shia labeouf
47. jensen ackles
46. james franco
41. chris pine
39. zachary quinto
36. kellan lutz
35. taylor lautner
32. bradley cooper
31. gael garcia bernal
19. eric bana
18. orlando bloom
17. paul newman
16. jake gyllenhaal
15. zac efron
14. heath ledger
11. ryan reynolds
10.
gerard bulter
The man who inspired a million workouts, Gerard Butler's turn in 300 not only catapulted him up the Hollywood ranks but caused half the known world to develop a slight fascination with him. As if the Scottish brogue, broad shoulders and fondness for dirty jokes weren't enough, we now know that he has abs like a cliff face.
Most alluring as... Either Leonidas in 300, in the days before clothes were discovered, or in a more thoughtful but still manly turn in Dear Frankie.
Interests include... Looking after his pet pug, Lolita, playing football, horseback riding, skiing and water-skiing.
9.
james mcavoy
He's a bit short and not as chiselled as others here, but there's a reason that James McAvoy is in high demand as a romantic lead, and that's because he's smart, funny, geeky (see his Empire award win for Best Sci-Fi/Superhero last year), has that awesome Glaswegian accent and is very dashing when he puts his mind to it. And he's got a fine line in movie-star kisses too.
Most alluring as... We're going for Becoming Jane's Tom Lefroy; like Mr Darcy with a bad-boy edge and a fondness for boxing.
Interests include... Reading sci-fi, watching Battlestar Galactica and Star Trek.
8.
alan rickman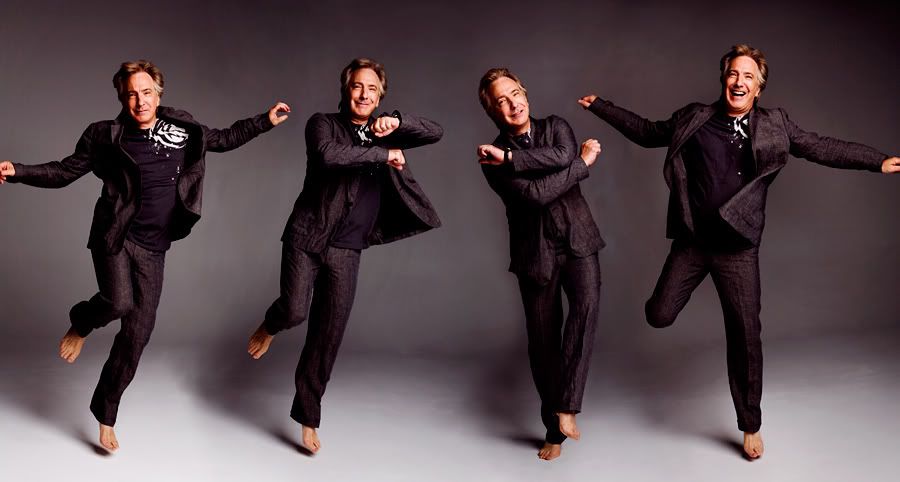 It's good to see that here, amid the chiselled cheekbones and perfectly coiffed heads, is a man who's sexy because he's smart, sarky and has a fine line in put-downs. Sure, everyone loves a bad(ish) boy, but Rickman's rogues' gallery is united by the fact that they're all strangely, unjustifiably sexy. Yes, even greasy-haired Snape. And as for his good guys, they're pretty irresistible.
Most alluring as... For Rickman as a good guy, as deceased cellist Jamie in Truly, Madly, Deeply (if you haven't seen it, it's like Ghost but better). For Rickman as a baddie, it's gotta be Hans Gruber in Die Hard.
Interests include... He's heavily involved in supporting theatre and lots of theatre causes, and holds a vice-chairmanship of RADA.
7.
george clooney
Impossibly handsome, charming and debonair, Clooney is this generation's Cary Grant, Gregory Peck and Clark Gable all rolled into one. He's intensely smart, very funny and political. It's the half-grin and the glint in the eye that kills, and the sense that somewhere, deep down, he's laughing at his own sex symbol status.
Most alluring as... Everett in O Broth- JUST KIDDING! It's got to be Jack Foley in Out Of Sight, chatting up Jennifer Lopez in a hotel bar.
Interests include... Urging the UN to act over the Darfur Crisis, raising money for victims of Hurricane Katrina, riding his motorbike, hanging at his Lake Como pad: just normal stuff.
6. hugh jackman
OK, tall: check. Dark, handsome: likewise. Smart, funny, self-deprecating, able to sing, able to dance, having muscly arms: check, check, check, you betcha, sure thing and no kidding. Devoted husband and father, reputedly nicest man in Hollywood: present and correct. We're sure he has an unattractive quality in there somewhere; we're just not sure what it is.
Most alluring as... Hands down, no question, Wolverine. Probably in the first X-Men. Claws, a tempestuous nature masking a soft heart and superhuman stamina: ladies?
Interests include... Acting, singing and dancing on stage. Jackman likes to tread the boards once every five years (at least) to keep his hand in.
5. christian bale
As impossibly chiselled as Depp, as intense as Sean Penn, Christian Bale brings equal commitment to playing a superhero, a dragon-fighter or a psycho. It seems like every role involves him getting shirtless at some point, but that's OK because 99.9% of the man-fancying population supports such a contractual demand entirely. The other 0.1% would have, but they accidentally watched The Machinist.
Most alluring as... It's a toss up: doing topless press-ups as Bruce Wayne or wielding a pickaxe and getting grubby as Quinn in Reign of Fire.
Interests include... Bale rescued two stray dogs and three stray cats and spends quite a bit of time supporting charities, especially animal charities. He's also an accomplished equestrian.
4. brad pitt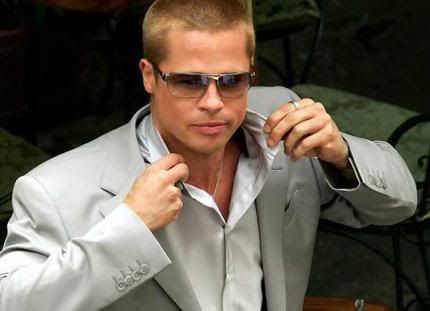 The only thing holding Brad Pitt back from the top spot is that he's so good-looking it's almost off-putting. Even with that horrendous Inglourious Basterds moustache, he was still approximately 1000% times better looking than any of the rest of us will ever be on our best hair day ever. And as one-eighth of the most photogenic family ever to grace the Earth, he's showing no signs of fading.
Most alluring as... So many to choose from, but there's a great moment in Legends of the Fall where he looks up from under a tipped cowboy hat and you can actually hear female jaws hit the floor.
Interests include... Aside from flying planes, supporting charities and playing guitar, he's also an architecture and design nut. Yes, even his hobbies are devastatingly sexy.
3.
robert downey jr
The perennial comeback kid, Downey Jr. has finally delivered on the promise he's always shown and turned into a major movie star - one of the biggest, following the one-two shot of Iron Man and Tropic Thunder. And he's aging well too: overly-pretty as a younger man, he's now such an undeniable fox that there are few straight men who'd even try to deny it. Admit it: you even loved him in the least PC-role ever as Kirk Lazarus in Tropic Thunder.
Most alluring as... Tony Stark / Iron Man, all cocky self-confidence masking deep vulnerability wrapped up in (importantly) a penchant for wearing tight vests.
Interests include... He worked with sometime-director and artist Sam Taylor Wood on an art video piece called Pieta.
2. robert pattinson
A recent addition to "Sexiest" lists everywhere, Robert Pattinson and his messy mane have won hearts all over the world with his turn as veggie vampire Edward Cullen in the Twilight Saga. Those over 25 may roll their eyes, but the combination of plum roles in hit novels (see also: Cedric Diggory in Harry Potter and the Goblet of Fire), a posh accent, musical ability and that enormous haystack on his head means half the teenage world adores him.
Most alluring as... Gotta be Edward Cullen, with all that restrained passion and the penchant for melting glances.
Interests include... He's also a talented pianist and guitarist, and contributed tracks to the Twilight soundtrack.
1. johnny depp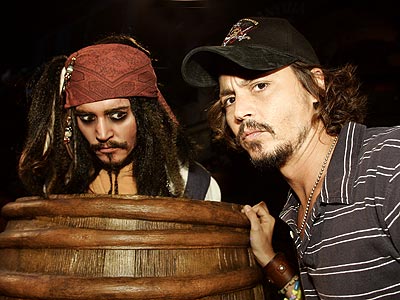 Johnny Depp first topped an Empire sexiest poll waaaaay back in 1995, but it appears that age cannot wither his appeal. He has the cheekbones and looks of a matinee idol, but the killer stroke that won everyone's hearts is the fact that he prefers to play weirdoes and oddballs - and, as Cap'n Jack Sparrow, he's hilarious too. Long may he reign.
Most alluring as... Cast your mind back to his role as Don Juan De Marco (1994), complete with open white shirt, billowing hair and suggestive hand caresses.
Interests include... Co-owning a restaurant called Man Ray (after the artist) in Paris with Sean Penn and John Malkovich. Although he reputedly once blamed a trashed hotel room on an armadillo that emerged from the wardrobe, went berserk and then jumped out the window, and we like to think that stories like that remain an interest of his.